Hallo meine Lieben!
Heute möchte ich euch zur neuen
The Paper Shelter Challenge
einladen. Diese Woche möchten wir Schleifen von euch sehen und das Thema lautet:
Ich habe mich für das süße Digimotiv
"Fairy Queen"
entschieden und die Grußkarte in Grüntönen gearbeitet. Den Hintergrund habe ich aus zwei verschieden großen Quadraten zusammengestellt. Natürlich eigen sich Papierreste sehr gut für diese Technik. Ich konnte auch wieder einige meiner neuen Stanzen von Aliexpress einweihen.
Das Digimotiv habe ich mit Aquarellstiften coloriert und als Topping habe ich die Flügel und die Kronen mit meinem Glitzerstift von Nuvo überzogen. Der Glitzer ist ganz fein und sehr schwer mit der Kamera zu fotografieren.
Und hier meine Inspirationskarte für euch:
Vergesst nicht, ihr könnt auch was gewinnen. Wenn ihr kein The Paper Shelter Motiv verwendet, könnt ihr drei Digis eurer Wahl gewinnen und für Teilnehmer mit TPS Motiv gibt es ein 30 Dollar Gutschein zu gewinnen.
verwendeter Digistempel: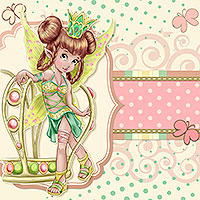 Vielen lieben Dank fürs Vorbeischauen und bis bald,
Challenges:
Edit: 30.06.2017
Vielen lieben Dank für die Top 3 Nominierung durch das Crafty Catz Design Team. Ich habe mich sehr darüber gefreut :)